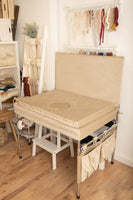 Foldable Newborn Posing Table
This Posing Table is designed with a modern and professional newborn photographer in mind.

It is light, safe, foldable, portable, easy to set up and put away in just a few steps.

The foldable posing table is also kind to your back since you will be posing whilst sitting on the chair of your choice!

Due to quick set up and light weight it is perfect for both in studio and mobile newborn photography sessions.

The standard set includes a waterproof carrying bag for hassle free transportation or storage when not in use. ...
Order velour set
I am incredibly pleased with this!

To begin, customs completely destroyed the box that the product was in, but the high quality case that the beanbag and poles were in kept it safe. After setting everything up, this stand completely outdoes my other backdrop stand, makes my blankets seamless. So excited to be using this. Thank you again!

Sarah Barnett
Fantastic item, amazing quality, great communication and really reasonably priced against some of the big brands.

Will be buying from this seller again

Laura Oliver
I am so pleased with the Babyfox newborn posing doll. It is quite simply perfect for practising newborn posing, wrapping and lighting. The doll is flexible and can be easily manoeuvred into various newborn poses whilst being suitably heavy to simulate handling a newborn baby. I am impressed at the high standard and quality of this doll. I would recommend this product and seller without reservation.

Derek Higgins
Shipping to your Country
Baby Fox is based in and is shipping from EU, Lithuania. All items are handmade and packed with great detail and care. We guarantee the production and shipping on time. However delay, loss, lack of care or damage due to covid restrictions, shipping company's fault, or Customs are out of our control.
Purchasing from EU: Due to free movement of goods there are NO import fees or taxes on all imported items within the EU.

Purchasing from the UK: Due to post Brexit situation we advise that you do not delay on your purchase if you want to save. The NO import fees and taxes shipping at the moment includes the UK too however is not guaranteed and may change any time in the future. All import fees and taxes are due upon delivery and are buyers responsibility. Charges on imported goods are out of our control, will depend on the Customs in the UK and will be collected on behalf of HMRC. Excludes Wales, N. Ireland, some parts of Scotland and Englands. Read more HERE
Purchasing from the outside of EU: Some items may be subject to import fees and taxes that are due upon delivery and are buyers responsibility. Please contact your local authorities to find out if and what fees they are collecting on goods imported from outside of your country and how they are calculated.

Read more...